---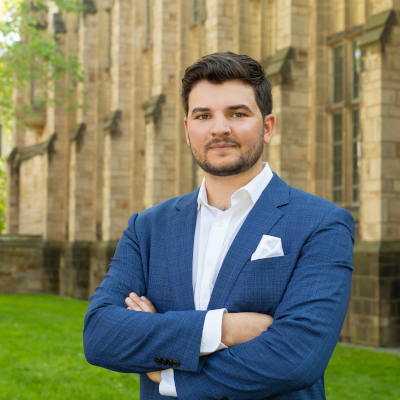 About Me
---
I received my BS in Electrical Engineering and Computer Science from Yale in 2021, and I'm now an Associate Embedded Systems Engineer at Humatics. At Yale, I conducted research in the Computer Architecture and Security Laboratory with Prof. Jakub Szefer, and I completed my thesis (Zerializer, listed under publications) with Profs. Robert Soulé and Rajit Manohar. Much of this work focused on FPGAs and hardware accelerators, and I continue to focus on developing for FPGA SoCs at Humatics. Altogether, I aspire to advance the state-of-the-art in FPGA development, and I am fascinated by advances in heterogeneous computer architecture.
I also have a passion for sailing. I was on the Yale Varsity Sailing Team and continue to compete in the International 505 dinghy class and on various keelboats.
Publications
---
Zerializer: Towards Zero-Copy Serialization. Adam Wolnikowski, Stephen Ibanez, Jonathan Stone, Changhoon Kim, Rajit Manohar, and Robert Soulé. 18th ACM Workshop on Hot Topics in Operating Systems (HotOS '21), May 2021.
Remote Power Attacks on the Versatile Tensor Accelerator in Multi-Tenant FPGAs. Shanquan Tian, Shayan Moini, Adam Wolnikowski, Daniel Holcomb, Russell Tessier, Jakub Szefer. 29th IEEE International Symposium on Field-Programmable Custom Computing Machines (FCCM '21), May 2021.
Building an Internet Router with P4Pi. Radostin Stoyanov, Adam Wolnikowski, Robert Soulé, Sándor Laki, Noa Zilberman. 4th European P4 Workshop, in conjunction with ACM/IEE ANCS '21 (EuroP4 '21), December 2021.
Awards
---
Yale Department of Computer Science Prize - Research - May 2021
Best Use of Machine Learning to Improve Remote Control Performance - YHack - December 2018
FIRST Dean's List Finalist - April 2016
Experience
---
Humatics - Associate Embedded Systems Engineer - June 2021 to Present
NVIDIA - System Software Intern - May 2019 to August 2019
Yale CASLab - Hardware Security Undergraduate Researcher - May 2020 to May 2021
Yale CASLab - Undergraduate Research Assistant - August 2018 to May 2020
Yale EENG 428 "Cloud FPGAs" - Undergraduate Learning Assistant - August 2019 to December 2019
---
I like embedded systems; I like simplicity and efficiency:
This website consists of one HTML document (3 kb) and one image (202 kb), no JavaScript or other bloat. :)
Copyright © 2018-2021 Adam Wolnikowski